CAS No.: 6074-84-6
Synonyms:
Pentaethoxytantalum, Pentaethyl tantalate, Tantalum ethylate, Tantalum pentaethoxide, Tantalum(V) ethoxide
Chemical Formula:
Ta(OC2H5)5
Description:
Colourless or pale yellow liquid freezing at 20°C, moisture sensitive
Available:
A variety of grades are available including but not exclusively Semiconductor, 99.999%, UHP
Specification for 99.999% material: PDF Download (525kb)
Boiling point (BP):
Decomposes below boiling point at ambient pressure
Melting Point (MP):
20°C
Vapor Pressure (VP):
0.1mm at 140°C
Solubility in water:
Reacts exothermally
Solubility in organics:
Soluble in hydrocarbons, reacts with alcohols, ketones and esters
Safety Information: PDF Download (292kb)
Applications
Nano-materials & Thin Films
Inorganic-organic hybrid polymers from the polymerisation of methacrylate-substituted oxotantalum clusters with methylmethacrylate: A thermomechanical and spectroscopic study. Basch, Gross, Choudhury and Matisons , J. Sol-Gel Sci.& Tech. 33 39-45 (2005)
Multilayer coating for ceramic thermal barrier having a top layer for absorbing of heat radiation. Stowell, Nagaraj, Skoog, Murphey, Ackerman and Ivkovich , US Pat 2005100757 (to General Electric company) (2005)
Non-aquous synthesis of high-purity metal oxide nanopowders using an ether elimination process. Pinna, Garweitner, Antonietti and Nederberger , Advanced Materials 16 2196-2200 (2004)
Optics & Glass
High-throughput methods to optically functional oxide-nitride materials. Henderson, Armstrong, Hector and Weller , Journal of Materials Chemistry 15 1528-1536 (2005)
Energy & Conservation Storage
Photocatalytic activity of hydrothermally synthesised tantalite pyrochlores for overall water splitting. Ikeda, Fubuki Takahara and Matsumura, Applied Catalysis, A: General 300 186-190 (2006)
Nanocrystalline mesoporous Ta2O5-based photocatalysts prepared by surfactant-assisted templating sol-gel process for photocatalytic H2 evolution. Sreethawong, Ngamsinlapasathian, Suzuki and Yoshikawa , J. of Molecular Catalysis A: Chemical 235 1-11 (2005)
Dielectric coating for surfaces exposed to high temperature water. Dulka, Kim, Israel, Sandusky, Janora, Brown and Zhao , US Pat Appl. 2005265512 (2005)
Healthcare
Prosthetic implant materials containing niobium and/or tantalum. Hakamazuka, Tamura, Tsuchiya and Isama , Jpn Pat 2006075581 (to Olympus Optical Co Ltd) (2006)
Catalysts & Synthesis
Metal oxide-containing kenyaite catalyst, method for preparing the same, and method for preparing epsilon-caprolactum using the same. Kim, Joo, Jung and Park , US Pat 2006047113 (to Korea Institute of Science and technology) (2006)
Process for the preparation of cyclopropane derivatives with special metal alkoxides. Reuter , Eur Pat Appl. 1650180 (to H.C. Starck G.m.b.H) (2006)
Hybrid & Disperse Materials
Inorganic-organic hybrid polymers from the polymerisation of methacrylate-substituted oxotantalum clusters with methylmethacrylate: A thermomechanical and spectroscopic study. Basch, Gross, Choudhury and Matisons , J. Sol-Gel Sci.& Tech. 33 39-45 (2005)
Vessels and Quantities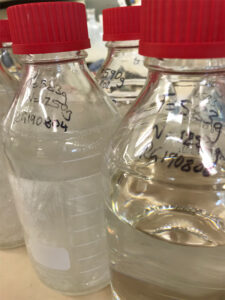 Tantalum(V) Ethoxide can be supplied in a range pf packages to meet our customer's requirements. EpiValence have the experience to handle safely and package in accordance with transport regulations. If you have special requirements, please contact one of the sales team who will be able to assist.
Glass Schott Bottles
Stainless Steel bubblers/ Ampoules
Able to fill Customer Specific Packaging
Quantities supplied can vary from customer to customer and our team are able to fill to meet your requirements for a 'plug and play' system against your procurement specification.
From grams to kilograms, we are able to work with you to understand your exact requirements and supply accordingly.
We are able to support both researchers with small volume orders for development and High Volume Manufacturing requirements.